As

Cyclone Phailin weakens in its murderous parade, leaving behind a trail of destruction and loss, let us thank the benevolent forces in nature, seen and unseen, manifestations of the highest beings, for sparing the rest of us, safe and unaffected. Let us also pray that those who lost their beloved ones and those who lost their properties, of this world, may find peace of mind. May they all receive blessings in immense quantities, and may by this storm, like the wise ones say, doors of new possibilities and chances open.
I remember reading in Daniel Defoe, with every storm we are given the possibility of tearing down the walls of our imprisonment. I am aware that you, right now, are looking for the cause, the Cosmic Person to be addressed. However, I am postponing the occasion of a direct address of that entity, due to the fear that if I mentioned anything close to even the existence of that 'almighty', someone would call it irrational, prehistoric mumbo-jumbo, or naivety in the face of a terrible disaster.
Yes, I am talking about God, the idea that our contemporary and 'post-modern' cultures rationalize and postpone endlessly. I am not theologizing a natural disaster, Phailin or any other, on any other part of the world. I have always wondered at the response of so many of us, wise, well-read, and learnt, with or without university education, doctors, engineers, professors, when it comes to facing a disaster. Most of them would resort to the 'Unum Dominium' of God almighty, although until then, except professing the atheistic notion of human existence, they would not have considered anything worthwhile.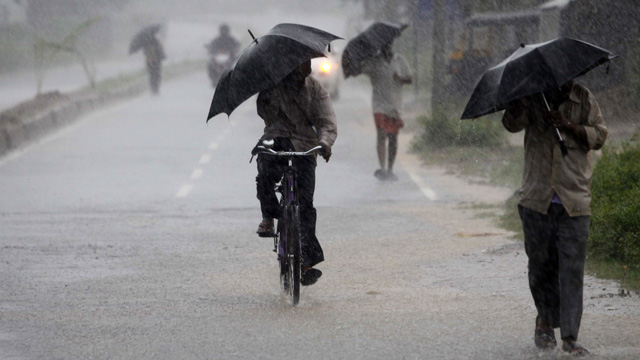 Image Courtesy: theguardian.co.uk
This paradox, reminds me also of Carl Gustav Jung's notion of dethroning God. Once you dethrone God from your mind, something else, which is not as worthy as the God-concept would claim the seat that should have been occupied by God. This would, doubtlessly lead one into troubles unimaginable, both mentally and physically, according to Jung. Are these well-learnt atheists hypocrites, who, instead of holding on to their position of reductionist reason and logic, all of a sudden, at the sight of a humongous disaster try to grab on to the last resort—God?
God exists or not, it is up to you to decide and experience. For most of us, the best measure for managing a disaster situation psychologically is to call upon the Cosmic Person, God. At least, as the paradoxical urgency at the time of disaster only. Observing this cultural phenomenon in Jungian terms, perhaps even the reluctant believers resorting to God as a measure for survival from anxiety and fear can be an act of inviting God to the same throne, from where the Cosmic Person was exiled. I am reminded of G. K. Chesterton's famous quote from The Everlasting Man; "the world could not save itself. Man could do no more. Rome and Jerusalem and Athens and everything else were going down like a sea turned into a slow cataract."
Those who parted with us, who were among us before the murderous winds hit the earth, and now vanished into the invisible realms, may find peace. May their souls rest in peace. May those survived also find peace, in the life ahead of them.