I do not intend to show mercy, but there are spoilers ahead. See, who said I am not caring?
Signs
is an American Science fiction film released in 2002. In this third movie by M. Night Shyamalan, aliens invade the earth and after a crucial conflict, suddenly disappear, or as it seems from the movie, backed off into their mysterious realm. Signs is unlike many celebrated films in the genre, like the Independence Day (1996) and Men in Black series, in having not many shots fired or aircrafts burnt down.
Graham Hess is an Episcopal priest, who discovers strange signs impressed upon the neat and luscious array of his corns in the field. By the time he and his brother Merrill discover that the originators of the signs are not from this world, an alien invasion is reported in the news channels, and it becomes a global phenomenon.
Image Courtesy: Shyamalan
M. Night Shyamalan's suspenseful telling of the story of ordinary country folks is impressive. It is still unclear though, who told Shyamalan that playing a classical instrumental music in the back score would help elevate the status of the movie. Signs has a background score, utterly unusual for a science fiction film. Does it pay for a difference? Only you can say.
Mel Gibson is Graham Hess. Gibson is a very talented actor and "does full justice to the role". There are potential scenes in Gibson's pocket. Those performance-oriented scenes are mostly related to a back-story from Graham Hess's life. Through a series of flash backs, Shyamalan tells the story of how Hess's wife, Colleen Hess died in an accident. Patricia Kalember plays this role. Merrill Hess is Graham Hess's brother and is used to be a minor league baseball player in the past. Merrill lives with Graham and Graham's two kids, Morgan and Bo. Joaquin Phoenix, who played Commodus in Gladiator movie, plays the role of Merrill with only good vibes to send out.
While the news was playing in the TV, in which the proliferation of the crop circles was the main news, references to India come up too, perhaps a small favour to the land of the origin of his family. He is born in Mahe, a small territory in Puducherry, near Kerala, India. Shyamalan was raised in Philadelphia, Pennsylvania, which becomes the setting for most of his movies.
Image Courtesy: Google
Apart from the mysterious crop circles, Signs also refers to those signs in human life that we often overlook. Coincidences are not actually random, and that randomness too has a cause to be present at a location in time and space. A baseball bat becomes the crucial tool with which Merrill blows the alien humanoid's face towards end of the movie—a tribute to the American popular sport as well as a sign, saying there was a reason why

Merrill played baseball, and why that specific bat was placed in the vicinity where they would all be trapped, close to losing Morgan's life.
Signs
is nowhere close to Manoj Night Shyamalan's first movie, The Sixth Sense (1999). The science in the fiction, in Signs, did not comply with some basic logic, when I think about it. The aliens are shown vulnerable to water. In the final dual, they kill the alien invader at the house by making the water sprinkle at the alien. (A series of events, which Graham Hess learns as coincidences, connected to yield a better result. It also affirmed his dwindling faith in God, which was the catastrophic aftermath of his wife's death.) The water or moisture carrying capacity of air varies according to temperature levels. However, there will be a certain level of moisture in the air, under normal circumstances. The question I asked to myself was, why weren't the aliens all died out, walking on the earth, if they were actually vulnerable to water? I am absolutely certain that they weren't wearing any spacesuits.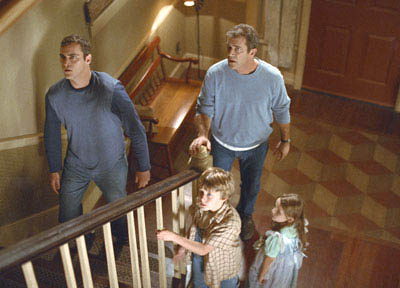 Image Courtesy: Google
Signs
also shows, apart from the alien invasion, the journey of a man from the loss of faith to learning how providence is manifested, and in regaining his lost faith.
Short Notice: M. Night Shyamalan performs a surprise role. It is cool.