Courtesy: Google Images
Coincidences
are much related with the paranormal, parapsychology, spirituality, magic, and the language of signs, but it is not very usual they appear to be a bridge across politics and spiritual awareness.
The thought to write about S.O.P.A and P.I.P.A came to my mind at a point when a similar trend was observed in the political reality of the nation I live in. Salman Rushdie was prohibited to participate in the Jaipur Literature Festival and the process of writing an article about this issue made me think of strategic steps from the governments all over the world such as the attempts to enchain the internet. Each of these steps is carries out with a similar mental malignity as can be observed in the attitudes of the people who banned Rushdie.
Writing has always been a gate through which substantial thoughts enter my mind, like speaking with one's guardian angel. The desire to write against the attempts to prevent internet freedom was an earnest one and I felt unease as the time passed without a single word hit on the screen. The next morning, as I was checking my mail box, something I stumbled across shook all my concerns away. It was a subscribed mail from Paulo Coelho's blog, and the post it advertised read: "My Thoughts on S.O.P.A."
"

Pirates of the world, unite and pirate everything I've ever written!" I read there. I was not shocked, not surprised, because I knew the courage a person required to write books such as the ones Paulo Coelho writes.
He has answers to all questions, potential deadlocks;
"1. Some people will say:
You're rich enough to allow your books to be distributed for free.
That's true. I am rich. But was it the desire to make money that drove me to write? No. My family and my teachers all said that there was no future in writing.
I started writing and I continue to write because it gives me pleasure and gives meaning to my existence. If money were the motive, I could have stopped writing ages ago and saved myself having to put up with invariably negative reviews."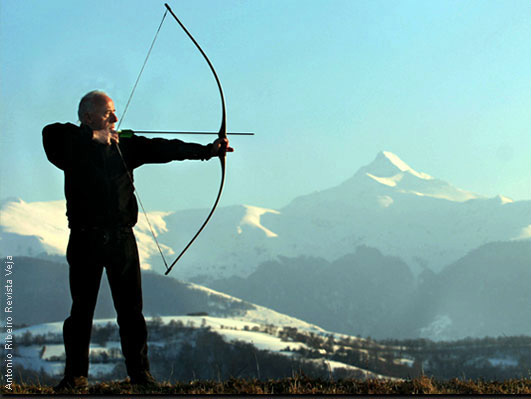 Courtesy: Picaros. Persiangig.com
The coincidence rather relaxed me to a state of complacency, the sort of complacency a warrior feels when he finds someone standing up and fighting the battle he thought he would lose. The stand of his argument was crucial: "The good old days, when each idea had an owner, are gone forever.
First, because all anyone ever does is recycle the same four themes: a love story between two people, a love triangle, the struggle for power, and the story of a journey.
Second, because all writers want what they write to be read, whether in a newspaper, blog, pamphlet, or on a wall."
With the permission of this fellow warrior, I am publishing the link to his blog here as well as his take on internet piracy: "
'Pirating' can act as an introduction to an artist's work. If you like his or her idea, then you will want to have it in your house; a good idea doesn't need protection.
The rest is either greed or ignorance."
If you go downward this link, you can see the
permission Paulo Coelho gave me to publish this post.