Statutory warning:
Those who can't afford to risk their temperaments with hardcore cultural satire, please close this tab by clicking at the
'X'
button on your right.
Cultural
differences are interesting to watch and study. Sometimes, they are as excruciating an experience as watching news in any Malayalam TV channel. At the same time, occasionally, these differences are
humorous
to observe as well. For example, the social science text book I studied for my eighth standard, says that Kerala is the America in India in the standard of living, and later in my Masters programme, I learnt that it is not just in standard of living, but in many aspects, such as cultural diversity and the way every culture is assimilated into its mother culture, this state is just like the melting pot, America.
Well, this can be said about the general Indian cultural context as well. Whoever you are, whichever religion you belong to, you have to rub the sandal paste on your forehead for Hindu festivities to show your secular feelings, or else you will be walled in. You have to wear the white cap or tie a hankie on your forehead for Muslim festivals as well (especially, in Northern parts of India). And if you want any more examples for how other cultures are melted and mixed together, just think about freedom of speech. You might have come from any part of the world, any state within the same nation, and you believe in this notion called 'freedom of speech or expression'. Suppose a religious leader dies and you are in desperate situation to reach a hospital to treat your dengue fever.
Hartal!
The religious leader is dead. There must be some protest against the almighty or yama, or the death angel or the demigod of death, which ever you think convenient for your beliefs, to remedy the death of their leader. So the best way the late leader's followers find is Hartal. Even if you do not belong to the place where the Hartal is called for, you have to consent. Do you dare to write your protest over the Hartal? If you do and you write, then what? The next day, your family will mourn your death.
Let's now move on to some gruesome aspects of cultural difference.
In a European or American context, when a man and woman walk around together, it will be called 'natural'. And when two men walk around hand in hand, it would be called not quite so natural—at least some will surely agree with me (a heterosexual). See, I am just pointing out what people say, just pointing out a reality that is all.
In Kerala, if a man and woman walk around together, that will be called immoral traffic.
And if two men walk hand in hand, that will be cheered up and people would say, 'Look, learn from them. What a friendship, yaar!'
Homosexuality or heterosexuality, it's always a matter of choice and here I do not judge any one with my narrow kaleidoscope of satire. But there is one thing we all must be very cautious, Indian or American or European or Arab or African or Chinese or Keralite. It is the amount of hatred that is in our world. I am just expressing my concern for all those who are being cornered due to the so-called cultural differences and suffer due to mistakes, not their own. And by the way, one more gruesome thing that I forgot to tell you about; it's actually to those who had already read, Fifty Shades of Grey. Don't think about publishing such a book in India, even though pornography is legal here. You will be banned for the rest of your life or stoned to death or your family will be cordoned off from the rest of the world.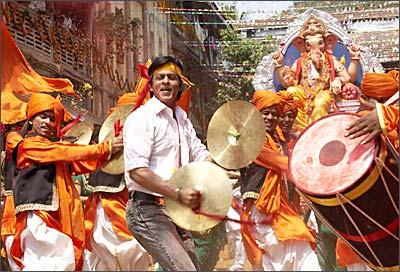 Image Courtesy: Google
Here is a bonus secret. If one follows this in life, one can have everything one wants—money, glamour, secretaries, interviews, contacts with underworld dons and religious leaders and politicians, and finally the label of superstar. Yes, you guessed it right; I am talking about how to be a successful Bollywood superstar. A certain difference in cultural aspects between another prominent film industry, Hollywood, is the key in understanding the secret of success in the world of Bollywood. In Hollywood, the criteria to becoming a superstar undoubtedly rests upon an individual's ability (linguistic ability) to blurt out the F-word in diverse accents and under all possible situations, even during giving birth to a baby! In Bollywood, things are a bit different. You are saved from the F-disaster. In Bollywood, one must know how to dance. Then one must get a huge Ganesh murthi, the idol of Lord Ganesha, the god with the face of an elephant. The size of the murthi is apparently proportional to the magnitude of your success. The next step is to dance around the idol and do not hesitate to believe, you are the next superstar!
Question for readers:
What are the causes for cultural differences?